Cal Master - Calibration Software
Downloaded demo file program includes tutorial, practice files, and a detailed manual to assist your evaluation.
$249.95+ S&H (price will increase February 1, 2009)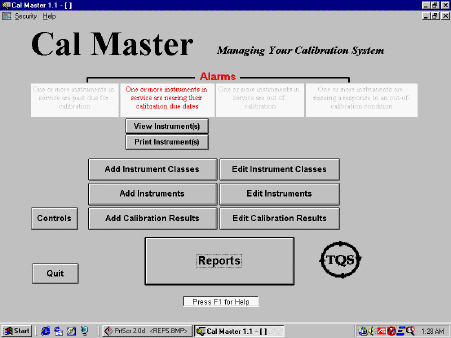 Cal Master Main Screen
Add Instrument Classes that speed the process of adding instruments
Add instruments, their calibration frequencies, their calibration points, and their instructions
Add calibration records for individual instruments
Cal Master alerts you whenever:
instruments are past due for calibration;

instruments are nearing their calibration dues dates;

instruments are out of calibration, or;

instruments were initially found out of calibration and no response was entered to indicate the status of potentially nonconforming product.
Cal Master also prints calibration worksheets (for technicians to use as instructions and for recording results), to print calibration histories and more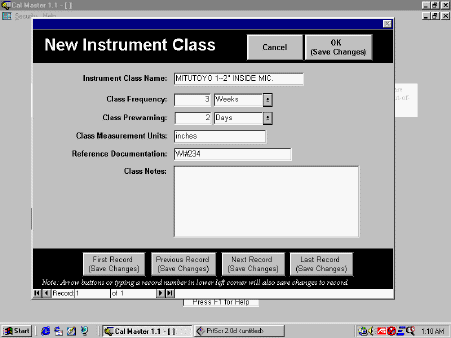 Instrument Class Screen
If a group of instruments is likely to have the same calibration frequency and calibration instructions then define a class for these instruments. This speeds the entry of instruments
You are able to set optional "early warnings" if you wish an alarm to alert you at a set amount of time before the instrument's calibration due date (in this example, 2 days before the due date, the alarm 'One or more instruments are nearing their calibration dues' will turn on - on the main screen). This will enable you to avoid the most common audit nonconformance-expired calibrations.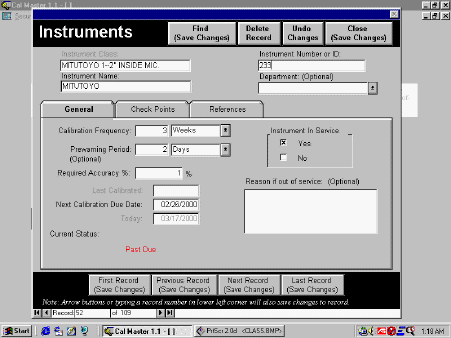 Instruments Screen - General Tab
Define the new instrument a unique ID number.
When the class is selected, the frequency, prewarning, and calibration instructions default to that of the instrument class
Set an 'accuracy required' (probably better termed 'allowable error'). This is a set as a percentage of the master or basis value.
Set 'Instrument in Service' to no if an instrument is removed from active service to prevent it from triggering alarms.
The current status of each instrument is shown at the bottom of the form as the instrument is displayed. In this case the status is 'Past Due'
The status is based on your computer's clock. When 'Today's date' is later than the 'Next calibration due date' the instrument is past due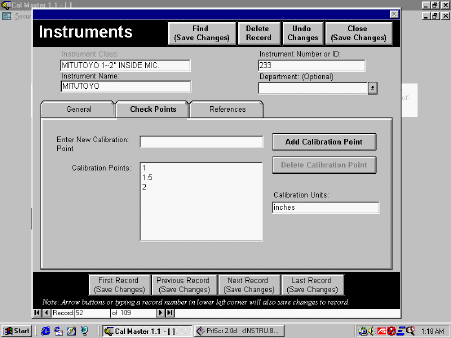 Instruments Screen - Check Points Tab
For each instrument, define the exact points at which calibration must occur. Add as many points as necessary.
The references tab simply contains the calibration instructions which defaulted from the instrument class
Calibration Screen
Select the instrument that is being calibrated. A list of the check point appears.
An initial value is required at each check point.
The initial accuracy is automatically calculated. If this is greater than the Required Accuracy, the instrument is out of calibration, and a post-adjust value should be entered to avoid turning on the alarm. Even if the post-adjust accuracies are within the limit, the field 'Response to out-of calibration condition' must be completed to avoid a different alarm. This field indicates what was done to assess potential nonconforming product that may have been produced. This is an extremely important record for ISO-9000.
In addition, to save a calibration record, an employee (who performed the calibration) and an NIST traceable standard # must be entered.
Men's Detroit Lions Cutter & Buck Blue WeatherTec Beacon Full-Zip Jacket,Women's New Orleans Saints Drew Brees Nike Black Limited Jersey,New York Giants Vintage 6" x 6" Oval Full Color Magnet.Women's Tennessee Titans Marcus Mariota Pro Line Pink Fashion Jersey,Infant Girl's Tennessee Titans Gray Field Goal Creeper Set Kansas City Chiefs 2016 Jerseys Cheap For Sale.Mens Houston Texans Jersey Slippers,Nike Men's Atlanta Falcons Julio Jones Team Color Game Jersey - Red.Women's Denver Broncos Orange Touch Team Spirit II T-Shirt,New York Giants Game Day Umbrella - Royal Blue,Youth Chicago Bears New Era Camo On Field Sport Salute to Service Knit Hat Kansas City Chiefs Jerseys Cheap.Nike New York Jets Womens Performance Capri Pants - Black,Women's Tampa Bay Buccaneers Nike Red Stadium Fan Top,Chicago Bears 8x8 White Logo Decal.Men's New York Jets Pro Line Green/White Grayton Adjustable Hat,Men's Chicago Bears Pro Line Navy Kearny Crew Sweatshirt Kansas City Chiefs Jerseys Cheap Price.Infant Seattle Seahawks Russell Wilson Nike College Navy Team Color Game Jersey,Oakland Raiders Passing Game II Hoodie Sweatshirt - Black,Men's San Francisco 49ers Nike Scarlet Practice Performance Pullover Hoodie.Men's Dallas Cowboys Mitchell & Ness Navy Marble Fill Crew Sweatshirt,New York Giants Mickey Mouse Uniform Hugger & 40" x 50" Plush Blanket,Womens Chicago Bears '47 Brand Navy Pep Rally Pants NFL Jerseys Kansas City Chiefs Outlet
Reports Screen
Print calibration histories for any or all instruments
If the calibration is not occurring directly in front of the computer, it's advisable to print calibration worksheets for the instrument(s), that detail calibration points, instructions, accuracy required, etc.
Print a list of instruments by class, or by status (e.g. all instruments past due, all instruments in prewarning period, etc.)
Print a set of memos - one addressed to each department manager, warning of the instruments in prewarning (nearing calibration due dates) in their department